Polish Navy was called into being on 28 November 1918, seventeen days after Polish independence was declared. The new Navy had two aims: the first was to support Polish claims for the Pomeranian coast; the second was to secure inland waterways in the newly emerged Polish state. A number of civilian ships were put into naval service, mainly on Vistula river and the construction of river warships was contemplated. These plans resulted in four gunboats (called monitors in Poland) built in Danziger Werft; a further two were ordered in 1923 at Krakow. Another flotilla was hastily created in the east, preparing for war between Poland and Soviet Russia, comprising mainly ex-German motor boats.
The Polish river flotillas, created in 1919 on the Vistula and Pina rivers were at that time the only units of the Polish Navy with any military value. They proved themselves during the Polish-Soviet War of 1919-1920 (the only war lost by the USSR), when they fought gallantly and victoriously against an overwhelming enemy.
On 10 February 1920 Poland took over a 42 nautical mile strip of coastline, which lacked a harbour of any importance. Gdansk (called Danzig by Germans) became a Free Town; though nominally Poland had certain rights there, practice and law prevented its use as a naval base. Therefore the Polish Navy used the small harbours of Puck and Hel initially but already in 1922 a decision was taken to build a new harbour in the village of Gdynia.
In December 1919 only six ex-German torpedo boats were allocated to Poland, though strong protests were issued by the Polish delegation to Versailles. The delegation demanded 2 light cruisers, 2 destroyers and a number of submarine chasers, motor boats and auxiliary ships. These claims were based on economic potential of inland Polish industrial districts, which until 1918 had been under German and Austro-Hungarian administration for more then a century: the protests were not approved.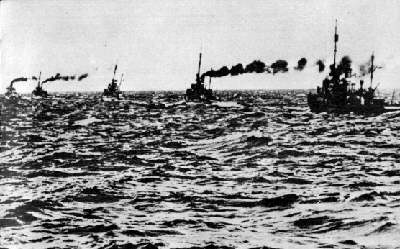 Gunboats with FM type minesweepers
Poland also claimed her share from the Russian Navy during the Polish-Soviet peace talk in Riga in 1921. At these negotiations 2 Gangut class battleships, 10 large destroyers, 5 submarines, 10 minesweepers, 21 auxiliaries and transports, 2 uncompleted Svetlana class cruisers and other equipment (guns, mines, etc) were demanded. Though the claims were later reduced to 5 destroyers, 5 submarines, 5 minesweepers, 2 auxiliaries and 1 uncompleted cruiser, they were not considered and Poland received nothing to add to her fully-conceded territorial claims when the Treaty of Riga was signed on 18 March 1921.
In the meantime various ships were being bought. The first of them was a small passenger coaster, which became the first Polish warship under the name of Pomorzanin. She was followed by 2 gunboats purchased in Finland and 4 minesweepers bought in Denmark. There were also boats, launches and tugs, bough mainly in Gdansk and 5 river patrol boats bought in 1920 in Austria.
These ships formed th Polish Navy until 1926, when 2 destroyers and 3 submarines were ordered in France. Meanwhile, the fleet expansion programmes were drawn up. The 1920 programme called for fantastic 2 battleships, 6 cruisers, 28 destroyers, 45 submarines, 28 minesweepers and auxiliaries. Four large and twenty small monitors had to be built on Poland's rivers together with 49 motor boats. This programme had to be completed by 1929. This date was totally unrealistic, due to Poland's economic situation, and in the same year another programme was drawn up, which called for 1 cruiser, 4 destroyers, 6 ex-German torpedo boats, 2 submarines and some smaller ships. This programme could not be realised either, though talks were underway with the British Admiralty for transferring 1 cruiser, 4 destroyers, 2 floating workshops and some CMBs to Poland.
from Convay's All the Worlds's Fighting Ships