HMNS Gerard Callenburgh hull was laid down at the RDM dockyard in Rotterdam on 26.XI.1938. Almost 2 years later, in May 1940, she was launched. After German invasion of Holland, ship was scuttled on 14.V.1940 in the Nieuwe Waterweg, Rotterdam to prevent capture by Germans, following unsuccessful attempts to tow her to England. In summer 1940 ship was refloated by Germans and towed to Hamburg for completion at the German Blohm & Voss yard.

ZH 1 probably after commision into the German Navy

On 11.XI.1942 Gerard Callenburgh is commissioned as ZH 1 (Zerstörer Holland 1), and allocated to the 5th Z-flotilla in the Baltic Sea as an experimental ship. She's usually at the dockyard or performing trials in the Baltic Sea during this period. Also part of this flotilla are Z 16 - flagship (Friedrich Eckoldt), Z 4 (Richard Bietzen), Z 14 (Friedrich Ihn) and Z 15 (Erik Steinbrink). In October 1943 ship departed Germany for France together with Z 27. On 2.XI.1943 ZH 1 arrivad in Rotterdam. The destroyers were protected by S-boats during the whole voyage. Next day ships pass the English channel, where they were taken under fire by British shore batteries. No hits and the ships arrived at Dunkirk. After they left Dunkir, convoy was under attack by MTBs of the Royal Navy. No damages were caused and the ships arrive in Le Havre and next day at the Gironde.

On the Christmas Eve Zh 1 As part of 8th Destroyers Flotilla sortied with 4th Torpedoboats Flotilla - torpedoboats T 22 and T 27 and destroyers Z 23, Z 24, Z 27, Z 32, Z 37 - took action in order to get the blokkaderunner - so called "Gummischiff" - Osorno (6 951 BRT) to safety and escort her into port. Next day the convoy was attacked by the RAF. But on 26.XII.1943 convoy arrives at the Gironde without any losses. When entering the port Osorno hits the wreck of Sperrbrecher 21 and has to be beached to save the very valuable cargo. The ZH 1 experiences condensor problems and has to be towed back by the torpedoboat T 25. Later in December, again the 8th Destroyers Flotilla - Z 24, Z 27, Z 32, Z 37, T 25, T 27 - and the 4th Torpedoboats Flotilla - T 23, T 24, T 26, T 22 - leave port to rendez-vous with the blokkaderunner Alsterufer (2 729 BRT). The ZH 1 remains in port, perhaps lucky, because the German force encounters two British cruisers, HMS Glasgow and HMS Enterprise. The destroyer Z 27 and torpedoboats T 25 and T 26 were sunk, Alsterufer had been sunk in the afternoon of the 27th by a Czech bomber of 311 squadron.

In March 1944, in company with Z 23, T 27 and T 29 escorted U-Boats passing through the Bay of Biscay, and also had rendez-vous with the Japanese submarine I 129 in the Bay of Biscay and escorted her to Lorient under constant air attack. Until the end of March 1944 destroyer had convoy duty in off the North Breton coast with torpedoboats Greif, Möwe, T 27 and T 29.

On D-Day ZH 1 departs the Gironde with the 8th Destroyers Flotilla - Z 32 and Z 24. The British had fore-knowledge of this movement six hours before the Germans put out, thanks to ULTRA. Attacked by 31 Beaufighters and eight Mosquitos in two waves at 2030 hours 30 miles west of the Isle de Normoutier, near Saint Nazire. Z 32 suffered minimal damaged, 1 enemy planes was shot down in the sencond wave.

After leaving Brest, force were augmented by T 24. Mission was to make an offensive sweep against southbound convoys reinforcing the Normandy beachhead. On 8.VI.1944 ZH 1, Z 32, Z 24 and T 24 are ordered to attack the landing forces at Normandy. They leave Brest escorted by the 40th minesweeper flottilla.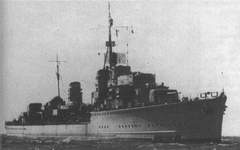 ZH 1 probably in 1944

Day later on 9.VI.1944 at 0115 hours KMS force was intercepted by British 10th Destroyers Flotilla - HMS Tartar, HMS Ashanti, HMS Javelin, HMS Eskimo, HMCS Haida, HMCS Huron and ORP Blyskawica, ORP Piorun. ZH 1, second ship in the German line fired two torpedoes without effect, then shortly after the British and Canadians opened fire at 0125, she was hit six times by 12 cm shells. Two hits did particular damage. One cut through the steam lines, leaving her dead in the water and witout electrical power, and another hit her beneath the waterline, flooding the No 1 boiler room. ZH 1 drifted to a stop on fire and wreathed in smoke as the battle moved away from her temporarily. At 0215 she was re-engaged by Tartar and Ashanti which encounted her, still drifting and still on fire, in the course of fighting Z 32. ZH 1 fired her remaining 12 cm gun at Tartar and was torpedoed twice by Ashanti from point blank range, blowing her bow off from the breakwater forward. She scuttled herself with depthcharges at 0240 in position 48'55 N 04'22 W. She sank west of the Ile de Batz where 27 of her crew found refuge, 140 others were rescued by British ships and 36 men were lost, including the captain, Korvettenkapitan Barkow.