Z 1 was laid down in Deutsche Werke yard in Kiel on 10.X.1934. Launched on 18.VIII.1938, she was completed on 1.I.1938.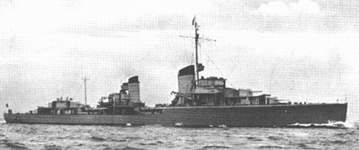 Z 1 before the war
In August 1938 ship is assigned to the blockade and guard duties in the Eastern Baltic (Danziger Bay - Hel). On 3.IX.193 Z 1 and Z 9 (Wolfgang Zenker) investigates Polish forces present at Hel and takes destroyer ORP Wicher and minelayer ORP Gryf under fire from 14,000 yards. The Polish forces return fire along with a shore battery of 15,2 cm guns. The Polish guns shoot well, forcing the Germans to increase speed to 27 knots and to take evasive action. At 657 the shore battery hits Z 1 killing 4 and wounding another 4. At 735 the Germans break off the action without achieving any results (an air strike later in the day sinks both Polish vessels).
Day later Z 1 left Pillau for Swinemünde, to undergo repairs which lasted until 9.IX.1939. On 25.IX.1939 she escorted Z 8 (Bruno Heinemann) for trials in the German Bight. On 29.IX.1939 ship was replaced by Z 16 (Friedrich Eckoldt) in guarding duties and left for Pillau, for overhaul. In December 1939 and January 1940 ship stationed in Swinemünde and made very little movement, due to severe ice conditions in the Baltic and North Sea.
On 2.II.1940 she was attached to 2. Zerstörer-Flotilla. On 13.II.1940 crew began loading mines for a mining operation on the English east coast, together with Z 5 (Paul Jacobi) and Z 7 (Hermann Schoemann). But day later the mining operation was cancelled. On 18.II.1940 operation Nordmark began (strike against British shipping from Norway across the North Sea) with the vessels: Gneisenau, Scharnhorst, Admiral Hipper, Z 20 (Karl Galster) and Z 21 (Wilhelm Heidkamp). Another formation was formed by: Z 1, Z 3 (Max Schultz), Z 4 (Richard Bietzen), Z 6 (Theodor Riedel), Z 13 (Erich Koellner) and Z 16, which would be detached the next day. All vessels left Wilhelmshaven on this day. On 19.II.1940 the Z 1 group left the main formation for merchant warfare in Skagerak and same day the group arrived back in Wilhelmshaven.
On 22.II.1940 operation Wikinger began (capture/destruction of British fishing vessels in the North Sea). Z 1, Z 3, Z 4, Z 6, Z 13 and Z 16 left Wilhelmshaven. Z 1 was sunk northwest of Borkum, at 1958, in the Heligoland Bight. Z 1 was attacked in error and hit three times by He 111s of 4/KG26. While taking evasive action, she ran into a newly laid British minefield and was sunk. 282 crew drown and only 60 were rescued. Also Z 3 was sunk in the same error attack with all hands lost.
Data taken from: http://www.feldgrau.com/